The Company adopts the Investment Manager's policy and approach to integrating Environment Social and Governance (ESG) and this has been used as the basis for establishing the Company's ESG objectives. The Investment Manager and Board view ESG as a fundamental part of their business.
Whilst real estate investment provides valuable economic benefits and returns for investors it has – by its nature – the potential to affect environmental and social outcomes, both positively and negatively.
Net zero carbon target:

 Approach to ESG
The Investment Manager's approach is underpinned by the following three over-arching principles:
Transparency, Integrity and Reporting: being transparent in the ways in which we communicate and discuss the strategy, approach and performance with investors and stakeholders.
Capability and Collaboration: drawing together and harnessing the capabilities and insights of platforms, with those of our investment, supply chain and industry partners.
Investment Process and Asset Management: integrating ESG into decision-making, governance, underwriting decisions and asset management approach. This includes the identification and management of material ESG risks and opportunities across the portfolio.
A key element of the Investment Manager's approach is the employment of its ESG Impact Dial which is a proprietary research framework supporting investment strategies and asset management. Four major themes have been identified and provide the basis of the Dial – Environment & Climate, Governance & Engagement, Demographics and Technology & Infrastructure. Together with the Dial's scoring system, assessing each asset based on its ESG characteristics across 21 indicators, these provide a framework against which the Company can set its ESG objectives and monitor progress over time, as well as guiding the assessment of materiality. Of particular focus is responding to climate change, both in terms of resilience to climate impacts and in reducing emissions from the Company's activities.
 ESG commitments
The Company has recently announced its pathway to achieving Net Zero Carbon following work completed in 2021:
2030: achieve Net Zero Carbon across all portfolio landlord emissions (Scope 1 & 2)
2040: achieve Net Zero Carbon across all portfolio emissions (Scope 1, 2 & 3).
Scopes 1 and 2 cover emissions that directly result from the landlord's activities where there is operational control, either through the purchase and consumption of energy or refrigerant losses. Scope 3 emissions are those that occur in our supply chains and downstream leased assets (tenant spaces) over which we have a degree of influence but limited control.
Within the Company's 'Dialling up the Integration of ESG' paper published in 2020 a number of key commitments were outlined. These fall under four broad themes which form the basis for our actions at portfolio level. The four themes are:
Carbon reduction and energy efficiency
Reliance and physical climate risk
Land and water contamination
Value to society
The table below presents an update on progress against these commitments and ongoing activities.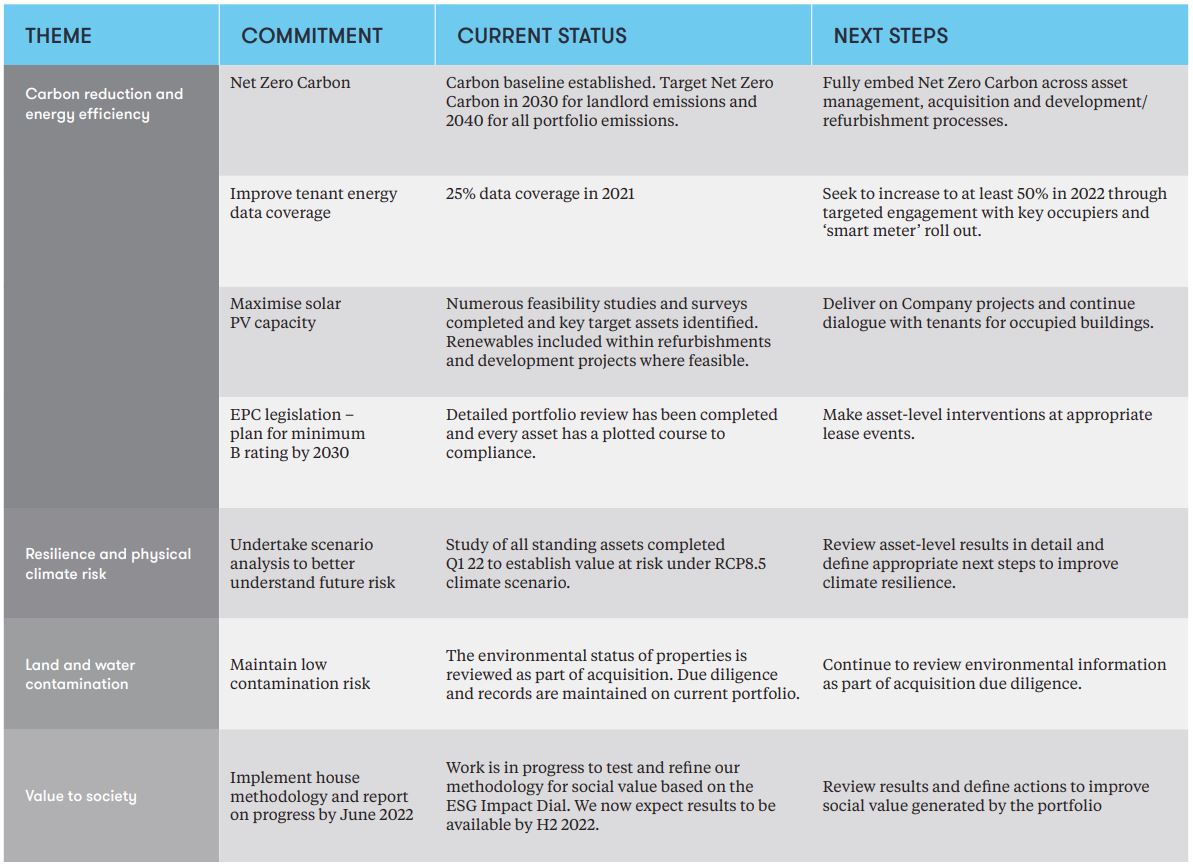  EPC legislation
Each property receives an Energy Property Certificate (EPC) ranging from A to G. Draft legislation applying to England and Wales indicates that by 2027 all properties must have an EPC of class A, B, or C and A or B by 2030. Currently 75% of the Company's portfolio by ERV in England (it does not own in Wales) attracts an A, B, or C rating and, whilst a good figure today, it is one which we and the Board keep under constant review to ensure we are on track to complying with the expected legislation. The percentage of portfolio ERV in England with an EPC of A-C is anticipated to grow through the completion of the Company's developments in Exeter, Bolney and Leamington Spa, which are all being delivered throughout 2022 and to a high energy-efficiency standard, as well as through other ongoing refurbishment projects within the portfolio.
 Case study: creating benefits for the community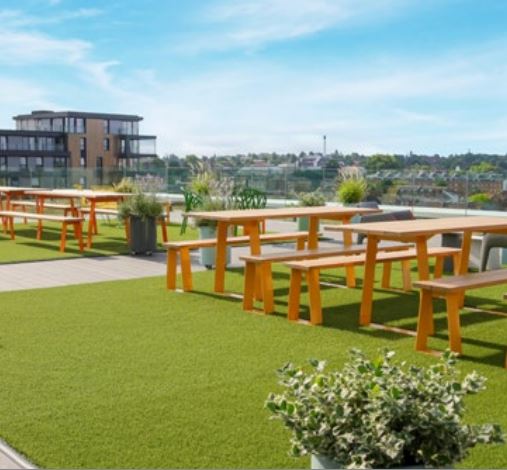 The White Building, Reading
We recognise the importance of maximising the impact of communal space within our multi-let assets and identified the opportunity to create a garden within the roof terrace of The White Building in Reading. Working with JLL and our landscaping contractor, the Tenant Community Garden was launched in 2021 to support habitat creation, biodiversity, carbon sequestration and other social benefits. We sought to give our tenants the opportunity to spend some time away from their desk during their lunch or free time and to tend to their own personal garden on the roof terrace with an aim to improving their mental health and general wellbeing. The tenants were encouraged to grow organic vegetables for their own consumption or to be donated to a local charity, to grow bee-friendly plants and to fertilise soil with grounds from the coffee machine. The project was extremely well received by the tenants and will be repeated in 2022.
A number of other biodiversity focussed initiatives have been completed throughout 2021 as we seek to make a positive impact through the portfolio. These include the installation of beehives at our multi-let industrial estate at Ventura Park, Radlett and installing bird boxes and 'bug hotels' at our retail park at Junction 27, Leeds.
 Case study: improving energy efficiency

Unit 12, Dartford
In June 2021 the 71,000 sq ft Unit 12 at Newton's Court, Dartford, fell vacant. The unit had been occupied as a headquarters building for a banana ripening firm since the 1990s and, as a result, the property had many bespoke fixtures and fittings requiring removal or upgrading. We therefore budgeted for a full refurbishment of the unit with a total net investment of £2.6 million.
As part of the refurbishment a number of ESG considerations have been included within the specification – installing a new energy-efficient air conditioning system, replacing lights with LED fittings, increasing the roof thermal insulation by overcladding it entirely and installing a new ventilation system with heat recovery. We are also installing photovoltaic (PV) solar panels on the roof. The works completed in late February 2022 and the unit has achieved an EPC of A, an improvement from the previous C rating. The refurbishment, incorporating ESG improvements, has enhanced our leasing rental expectations and with marketing underway the building is generating strong occupier interest.
 EPRA Sustainability Best Practice Recommendations Guidelines
We have adopted the 2017 EPRA Sustainability Best Practice Recommendations Guidelines (sBPR) to inform the scope of indicators we report against and reported against all EPRA sBPR indicators that are material to the Company. We also report additional data not required by the EPRA sBPR where we believe it to be relevant, for example like-for-like greenhouse gas emissions.
This data and our indicators can be found in our Annual Report.
 Operational Sustainability Performance Summary
Processes are in place to ensure operational sustainability performance is monitored and actions are implemented to drive continual improvement. The effect of COVID-19 on occupancy has had an impact on energy consumption and greenhouse gas emissions. It is unfortunately not possible to fully disaggregate this impact from improvement measures undertaken at assets and the performance figures for 2020 and 2021 should be viewed in this context.
Like-for-like landlord-obtained electricity consumption reduced year-on-year across the Company's assets by 8%. An increase at offices due to increased occupancy in 2021 was offset by lower landlord consumption for vacant industrial units. Landlord gas consumption increased due to an increase at office assets. This resulted in a 7% increase in like-for-like greenhouse gas emissions associated with landlord-procured energy. However, on an absolute basis, emissions from landlord-procured energy and refrigerants reduced by 10% in 2021.
 GRESB Assessment
The Company has submitted data to GRESB (formerly the Global Real Estate Sustainability Benchmark) since 2014. It is the leading global sustainability benchmark for real estate vehicles. In its 2021 assessment the Company was rated second in its peer group, achieving a score of 73 and a threestar rating, an improvement on the two-star rating and overall score of 67, which were received in 2020.
 Health & Safety Policy
Alongside these environmental principles the Company has a health & safety policy which demonstrates commitment to providing safe and secure buildings that promote a healthy working environment and a customer experience that supports a healthy lifestyle. The Company, through the Investment Manager and Managing Agent, manages and controls health & safety risks as systematically as any other critical business activity using technologically advanced systems and environmentally protective materials and equipment. By achieving a high standard of health & safety performance, the Company aims to earn the confidence and trust of tenants, customers, employees, shareholders and society at large.
 Bribery & Ethical Policy
It is the Company's Policy to prohibit and expressly forbid the offering, giving or receiving of a bribe in any circumstances. This includes those instances where it may be perceived that a payment, given or received, may be a bribe. The Company has adopted this Anti-Bribery and Corruption Policy to ensure robust compliance with The UK Bribery Act 2010. The Company has made relevant enquiries of its Investment Manager and has received assurances that appropriate anti-bribery and corruption policies have been formulated and communicated to its employees. In addition the Board has adopted an ethical policy which highlights the need for ethical considerations to be considered in the acquisition and management of both new and existing properties.
 Our delivery strategy